Palm Kernel Solvent Extraction Plant
Palm kernel Oil is extracted fron the nuts of the oil palm.They contain about 40% of oil content. Palm kernel oil extraction is used to get the edible oil or bio-diesel from vegetalbe oilseed and plant. Suitable for extracting different vegetable oil-materials, such as rapeseeds, peanut, soybean, seasame seed, cottonseed, coconut, palm, olive, etc.
Palm Kernel Solvent Extraction Plant
Mechanical extraction processes are suitable for both small- and large- capacity operations. There are three basic steps in palm kernel solvent extraction plant, they are kernel pre-treatment, screw pressing and oil clarification.
1. Kernel Pre-treatment: Proper kernel pre-treatment is necessary to efficiently extract the oil from the kernels. The feed kernels must first be cleaned of foreign materials that may cause damage to the screw-presses, increasing maintenance costs and down time, and contamination of products. Magnetic separators commonly are installed to remove metal debris, while vibrating screens are used to sieve sand, stones or other undesirable materials. A swinging hammer grinder, breaker rolls or a combination of both then breaks the kernels into small fragments; The kernel flakes are then conveyed to a stack cooker for steam conditioning; Steam trays heat the cookers, and live steam may be injected into each compartment when necessary. 2. Screw Pressing: The properly cooked meal is then fed to the screw-press, which consists of an interrupted helical thread (worm) which revolves within a stationary perforated cylinder called the cage or barrel. The meal is forced through the barrel by the action of the revolving worms. The volume axially displaced by the worm diminishes from the feeding end to the discharge end, thus compressing the meal as it passes through the barrel.
3. Oil Clarification: The expelled oil invariably contains a certain quantity of 'fines and foots' that need to be removed. The oil from the presses is drained to a reservoir. It is then either pumped to a decanter or revolving coarse screen to remove a large part of the solid impurities. The oil is then pumped to a filter press to remove the remaining solids and fines in order to produce clear oil prior to storage. The cakes discharged from the presses are conveyed for bagging or bulk storage.
Products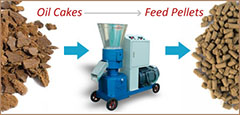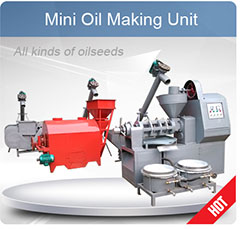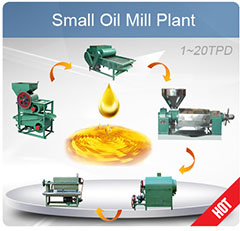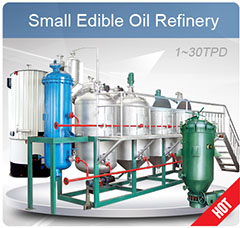 Projects
Recent Posts