Mini Oil Mill
With the development of society and economy, more and more people prefer to process oils at home, then you will need a mini oil mill.
Consumption of edible oils is increasing year after year, edible oil is an integral part of the Indian palate since long and different varieties are popular in different parts of the country. Different types of oilseeds are grown all over the word in the country like groundnuts, cotton seeds, mustard, rapeseed, sunflower, soya bean etc. Oilseed crop occupies important position in the agricultural and industrial economy of the country and accounts for about 13% of the cropped area. Mustard seed is one of the five major oil seeds from which edible oil is produced, thus, make oils with mini oil mills or a mini oil mill plant is available.
Mini Oil Mill
Mini oil mill is suitable for crushing of all type edible and non edible oil seed. The oil press is one mini oil mill, This combined mini oil mill is an advance model from the oil miller.They include motor,vacuum filter,heater and electric control cabinet.The assistant part can help the mini oil mill with higher output and cleaning of the oil product,is an ideal choice for customer.The main feature is less dregs, high output rate.It's more advanced machinery in oil process. For all kinds of plant oil materials can be pressed, such as peanut, soybean, rapeseed, cottonseed, sesame, olive, sunflower, coconut, cocoa etc. Suitable for medium-small scale oil factory and private user, as well as for the pre-pressing of extraction oil factory.
Our oil mills have lower recurring cots as compared to our competitors. These low recurring costs are because of low manpower requirement, space requirement, operational time requirement and an extremely low maintenance requirement.
Mini oil mill is a complete oil mill with vacuum filtration pump that gives high viscosity filtered oil from all edible and inedible seeds. Filtration of oil is better than bigger oil mills giving transparent pure natural and 'at a stretch convincing appearance'to oil. The filtration of oil is better in our mini oil mill than bigger oil mills giving transparent pure natural and "at a stretch convincing" appearance to the oil. The inbuilt decorticator has special provision for shelling groundnut for seed purpose without breakage. The oil yield of our mini oil mill is as high as big oil mills because of highly scientific worm sequence inside the chamber cage.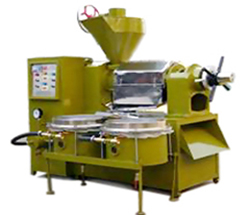 | | | | | |
| --- | --- | --- | --- | --- |
| Model | Capacity | Power | Weight | Outside dimension |
| YZS-80A | 100kg/h | 5.5+0.75kw | 700kg | 1890*1160*1790mm |
| YZS-95A | 150-200kg/h | 7.5+1.1kw | 900kg | 2100*1200*1890mm |
| YZS-100A | 200kg/h | 7.5+1.1kw | 900kg | 2100*1200*1890mm |
| YZS-120A | 250kg/h | 11+1.5kw | 1000kg | 2200*1250*1890mm |
We are committed to offer quality mini oil mill. we are your trustable mini oil mill manufacturer in China. If you are interested with our mini oil mills, Contact us now in the following form to get more info.
Products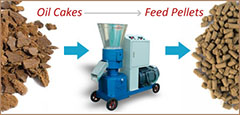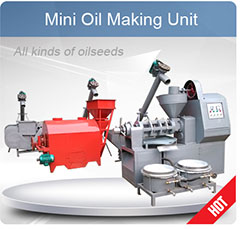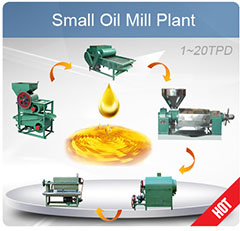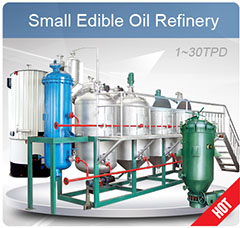 Projects
Recent Posts